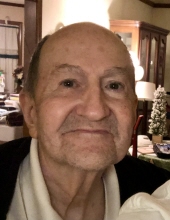 Obituary for Richard M Robison
Richard M. Robison, age 78, died September 14, 2022.
******

Richard Michael Robison

November 8, 1943 – September 14, 2022
Richard M. Robison of Lakeland, TN, passed away on September 14, 2022 from natural causes, surrounded by family members and friends. He was 78.
Richard was born November 8, 1943 in Columbus, Ohio to Fredrick A. Robison, Sr. and Bertha (Smith) Robison at Mt. Carmel Hospital. A graduate of West High School, Columbus, Ohio.
In 1967, Richard married Mary Virginia Robison in Columbus, OH. Richard worked as a manager at Kelly Labor and the Ohio Department of Transportation. With his wife, Richard owned a boarding house for the elderly near The Ohio State University campus.
Richard spent the majority of his adult life raising his three sons (Taylor, Monte and Barry) on Oaklawn Avenue, Columbus, Ohio and on Jewett Road in Powell, Ohio. He was a devoted family man, which was his guiding light.
In Powell, Ohio, the Robison family owned a small farm they affectionally called "Fencerow Farm" where they raised horses, chickens and ducks. While growing up, Richard loved taking his sons to BMX bike riding events, Ohio State Buckeye football games, Cincinnati Reds baseball games and seeking out celebrity autograph moments for his sons. Robison family holidays with his brothers and sisters' families were fond memories for him.
Richard loved baseball and classic movies, with a few of favorites being Gone With The Wind and Fiddler on The Roof. He loved comedies with Dean Martin, Jerry Lewis and the Marx Brothers.
As a devoted Christian, Richard was a life long supporter of the State of Israel and member of Grace Brethren Church in Worthington, Ohio, where he worked as an usher in the 1980s. He was a passionate devotee of Christianity and could quote scripture as good as any preacher.
Along with his wife, Richard moved to Memphis, TN in 1995 so Virginia could pursue her occupational therapy career. He was a member of Bellevue Baptist Church in Lakeland, TN.
Preceded in death by his brothers, Fredrick A. Robison, Jr. and Gary T. Robison, and father Fredrick A Robison Sr., mother Bertha (Smith) Robison, uncle Robert (Uncle Babe) Smith, sister Patricia (Forest) Krumm and nephews Rick and Doug Krumm and eldest son, Taylor Robison.
Richard is survived by his wife and love of his life, Mary Virginia Robison (Howenstine), of Lima, Ohio, whom he married in 1967. Fifty-five years of happy marriage.
Survived by two great sons, Monte Robison and Barry Robison. His wonderful grandchildren are Miles Andrew Robison and Luke Taylor Robison of Austin, Texas.
Richard is also survived by sister, Judy (Herb) Kennedy; sister, Janice (Bill) Middleton; and many fantastic nieces and nephews.
It was Richard's wish to be cremated. There will be no service. In lieu of flowers, you may donate to International Fellowship of Christians and Jews.
"Take me home to glory."- Richard Robison
"He will wipe away every tear from their eyes, and death shall be no more, neither shall there be mourning, nor crying, nor pain anymore, for the former things have passed away." – Revelation 21:4 ESV
Serenity Funeral Home, Tel. (901) 379-0861.
Donate here : International Fellowship of Christians and Jews.
https://help.ifcj.org/donate/77/0?_ga=2.93755737.573069972.1663336863-573279150.1663336862&_gac=1.162577742.1663336872.Cj0KCQjwvZCZBhCiARIsAPXbaju8dnfOJqg6CziX_vES9qmDwbDMAVpWjXFG7JXciT2lZBB8XeWSrpoaApsqEALw_wcB&_gl=1%2akk16gb%2a_ga%2aNTczMjc5MTUwLjE2NjMzMzY4NjI.%2a_ga_SMRZE0CTXQ%2aMTY2MzMzNjg2Mi4xLjEuMTY2MzMzNjg4OC4zNC4wLjA.
Read More