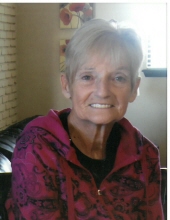 Obituary for Carolyn K Cartwright
Carolyn Kay (Bell) Cartwright, 70, passed away July 9 after a sudden illness.
Carolyn was born on September 12, 1944 in Webster City, Iowa to Mary and Melvin Bell. She was the youngest of their 8 children. She grew up in the Goldfield area and later graduated from Gilbert High School in 1962. She married Paul Cartwright on June 6, 1970. They had three wonderful daughters: Linda Cartwright of Victorville, California; Kris Hilty of Southhaven, Mississippi, and Paula Ganzeveld of Cedar Rapids, Iowa.

They resided in Dakota City, Iowa for 26 years. Over the years she had a variety of occupations ranging from in-home daycare to being a 90 pound jailer for the Humboldt County Sheriff's Department. Most of all, she was the best mom ever. In 1996, Carolyn and Paul moved to Millington, Tennessee to fulfill their lifelong dream of operating race tracks. They made their home at various race tracks over the years, where she touched the hearts of "her racers." They returned back to Tennessee in 2012 to operate Memphis International Raceway. They were a true team for 45 years, giving each other love and encouragement--always putting the other one first. Carolyn was truly the center of Paul's universe, and he was hers.
More than anything, Carolyn loved being a grandmother. Her 6 grandchildren (Casey, Corey, Alexa, Carter, Camden, and Brianna) will forever love her.

She was preceded in death by her parents, brothers Bob, Don, Bernie, and sister Bonnie. She is survived by her sisters Mary and Barb and brother LaVerne, her husband, three daughters, and 6 grandchildren.

Visitation will be held Sunday, July 12 from 2-4 P.M. Service will be Monday, July 13th at 10 A.M. All to be held at Serenity Funeral Home, 1638 Sycamore View Rd. Memphis, TN. To honor Carolyn, please do something kind for a child.


Previous Events
Visitation
Serenity Funeral Home
1638 Sycamore View Road
Memphis, TN 38134
Service
Serenity Funeral Home
1638 Sycamore View Road
Memphis, TN 38134