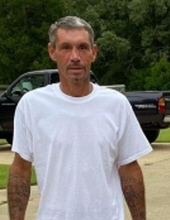 Obituary for Tommy Lee Pittman
Tommy Lee Pittman, 52, died January 21, 2021.

Tommy Lee Pittman, 52, of Memphis, Tennessee, died on Thursday, January 21, 2021 at Regional One Medical Center.

Tommy was born in Memphis, Tennessee, on December 18, 1968, to the late Thomas and Carolyn Henson Pittman. Tommy spent the last 7 years working for Robert Currie and wife Jacqueline of Memphis, Tennessee. Tommy spent his entire life as a painter, and he loved everything about it. He had the ability to leave an ever lasting impression on everyone he met (good or bad). He never met a stranger. Every person in the world, to him, was just a friend he hadn't met yet. He always saw the good in people. Sometimes, that's all he would see, even if no one else could.

He is survived by his daughter, Kealee Armstead and husband Randy of Snow Lake, Arkansas; son, Hunter Atchley of Dickson, Tennessee; longtime girlfriend, Samantha Ownby of Memphis, Tennessee; brother, Danny Pittman and Beverly Ray of Horn Lake, Mississippi; sister, Jamie Ford and husband Kenny of Coldwater, Mississippi; one grandson, Reed Armstead of Snow Lake, Arkansas; along with extended family and a host of friends.

Serenity Funeral Home, Tel. (901)379-0861.