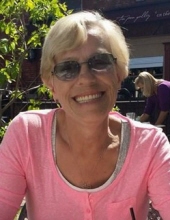 Obituary for Pauline May Chappell
Pauline May Chappell, 62, of Millington, Tennessee, died on January 22, 2016.

She is survived by daughter, Amy Schmitt; sons, Eric Chappell, Josh Johnson and Michael Chappell; sisters, Kathy Salisbury, Jill Reed, Betty Tanner, Cheri Wright and Jan Patchen; brothers, William Johnson, Charles Johnson and George Johnson, and seven grandchildren.

In lieu of flowers, memorial contributions can be made to Methodist Hospice, 6416 Quince Rd, Memphis, TN. 38119, Tel. (901) 516-1600.

Serenity Funeral Home and Cremation Society, 1632 Sycamore View Road, Memphis, TN. 38134, (901) 377-3543.