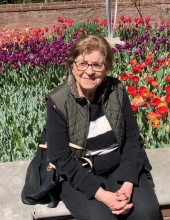 Obituary for Nelia Albo
Our dear Aba Nely, Nelia Albo, sadly passed away on January 10, 2023 at the age of 93. She was born on October 19, 1929 in Havana, Cuba. She was a loving mother, grandmother, great-grandmother, and aunt. She loved her family immensely and devoted her life to caring for those she loved. She is survived by her daughter Lourdes and son-in-law Art, her grandchildren Stephanie (John) and Alex (Monica), and her four beautiful great-grandchildren Nellie, Jack, Charlie, and Jude. She was predeceased by her husband Orlando Albo, her parents Nelia and Raul Coca, and her sister Norma Fernandez. She will be greatly missed and will always hold a place in our hearts.
To honor Nely's memory, we are celebrating a funeral mass on Thursday, January 19, 2023 at 10:00 a.m. at Catholic Church of the Holy Spirit. All are welcome.
In lieu of flowers, the family requests that donations be made to the Juvenile Diabetes Research Foundation (JDRF) or St. Jude Children's Research Hospital.
Serenity Funeral Home, Tel. (901)379-0861.
Read More
Previous Events
Mass of Resurrection
Catholic Church of the Holy Spirit
2300 Hickory Crest Dr.
Memphis, TN 38119