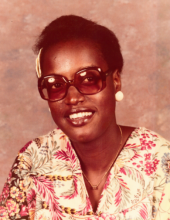 Obituary for Madeline Carol Hankins
Madeline Carol Hankins, age 58, passed away November 2, 2014.
She was born June 4, 1956 to Geraldine and Joe Hankins Jr. in Memphis, Tennessee.
Madeline gave her life to Christ at an early age. She served as a faithful member of Temple of Deliverance COGIC under the leadership of Bishop G.E. Patterson and remained faithful under the leadership of Pastor Milton Hawkins.
To know Madeline was to know kindness. Madeline was a kind soul and helped everyone that asked for help. She always provided an ear to just listen; a hand to help you out in your time of need; a heart that filled you with love. Madeline was pure in heart and soul and lived by the word of Jesus Christ and exemplified the persona of a faithful servant who showed kindness and love to everyone that walked her path.
Madeline is survived by her son, William Hankins, daughter-in-law, Sheretta Hankins, and grandchildren – Montez Hayes, Shanera Hankins, William C. Hankins, Brionna Hankins, and Selina Hankins. She is also survived by her father Joe Hankins Jr. and her siblings: Mattie Hines, Mary Davis, Marilyn Hankins, Sandra Askew, Georgetta Hankins, Joe Hankins III and Joel Hankins (Barbara). She is preceded in death by her mother Geraldine Lowe-Hankins and her brothers Edward Hankins and Jarvis Hankins. She also leaves behind a host of nieces and nephews.
Visitation will be held 4-7 PM on Friday, November 7, 2014. Serenity Funeral Home and Cremation Society 1632 Sycamore View Rd., Memphis, TN 38134. Services will be conducted at 12:30 PM on Saturday, November 8, 2014.
Serenity Funeral Home, 1638 Sycamore View Rd., Memphis, TN, 38134. Tel. (901) 379-0861.


Previous Events
Visitation
Serenity Funeral Home and Cremation Society
1632 Sycamore View Road
Memphis, TN 38134
Service
Serenity Funeral Home
1638 Sycamore View Road
Memphis, TN 38134