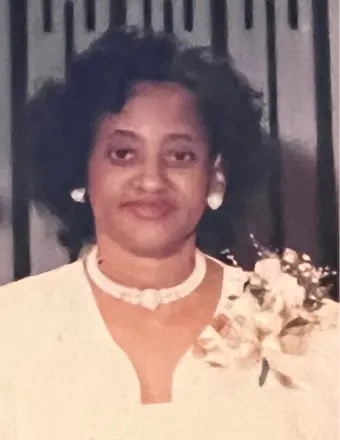 Obituary for Laverne Harrington
Laverne Bonner Harrington, affectionately known as "Verne," entered this world on February 19, 1946, in the vibrant city of Memphis, TN. She was born to loving parents, Hugh Bonner and Eva Bonner. Laverne lost her beloved mother at the tender age of 10. However, Verne discovered solace and found a loving support system in her mother's best friends, Ruby and Harold Douglas.
Verne's deep-rooted faith in Christ bloomed early, and she became an active member of St. Stephen Missionary Baptist Church. On Friday, June 9, 2023, she peacefully departed this world, leaving behind an enduring legacy of unwavering faith.
Educated at Manassas High School in Memphis, Verne graduated as a proud member of the Class of 1964. Continuing her pursuit of knowledge, she attended Knoxville College in Knoxville, TN, where she focused her studies on business.
In a true testament to love's enduring power, Verne exchanged vows with her soulmate, Jordan Harrington, on November 17, 1967. Their union was blessed with the arrival of two beautiful daughters, Eva Harrington Nooh and Angela Harrington Fant. Verne cherished every moment of her marriage until Jordan's untimely passing on June 15, 1985.
Verne's life was illuminated by her passions, including playing the piano, engaging in meaningful conversations, reading the Bible, and reveling in the joys of music. However, her most profound joy was found in the embrace of her cherished family. As a doting grandmother, Verne poured boundless love, devoted time, and thoughtful gifts onto her beloved grandchildren, Taylor and Jordan, who were a constant source of pride and joy.
Left to cherish the memories of a remarkable life are Verne's beloved daughters, Eva Nooh of Memphis, TN, and Angela Fant of Frisco, TX. Alongside them stands her caring son-in-law, Tommy Fant of Frisco, TX, who provided unwavering support throughout Verne's journey. Verne's legacy will forever be carried forward by her treasured grandchildren, Taylor Fant and Jordan Bravo. Additionally, she leaves behind her dear sister-in-law, Mildred Harrington Lee, along with a multitude of nieces, nephews, and friends whose hearts are adorned with cherished memories of Verne's vibrant presence.
In honoring the life and legacy of Laverne Bonner Harrington, let us celebrate the indomitable spirit of faith, love, and devotion that defined her time on Earth. May her soul find eternal peace, and may her memory forever inspire us to cherish our families, embrace our passions, and walk hand-in-hand with unwavering faith.
Serenity Funeral Home, Tel. (901)379-0861.
Read More
Previous Events
Graveside
Memphis National Cemetery
3568 Townes Ave.
Memphis, TN 38122
Cemetery Details
Location
Memphis National Cemetery
3568 Townes Ave.
Memphis, TN 38122