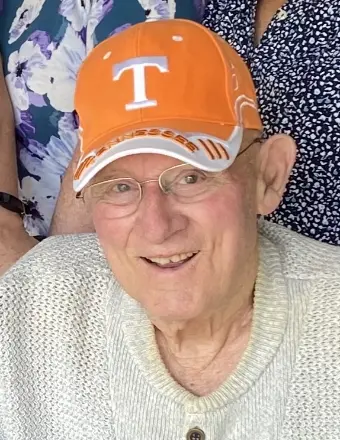 Obituary for John Kenneth Miller, Jr.
John Miller, Age 90, Died September 11, 2023.
Serenity Funeral Home, Tel. (901) 379-0861.
John Kenneth "Ken" Miller Jr, 90, peacefully passed away on September 11, 2023 in Memphis TN. A celebration of his life will be held on October 21, 2:00 PM at Serenity Funeral Home on Sycamore View in Memphis. On October 23, 2023 at 11:00 AM, a full Military Honors Ceremony will be held at West Tennessee State Veterans Cemetery, followed by interment at that location.
Ken was born September 20, 1932 in Ottumwa Iowa, the only child of John Kenneth Miller Sr. and Willa (Brownlee) Miller. Ken graduated from the University of Iowa with a Bachelor of Science in Marketing. He was also a drummer in the marching band. Upon graduation, Ken was commissioned as a Second Lieutenant in the U.S. Army.
On June 12, 1955, Beverly Sassaman became his bride. He was stationed at Fort Riley, Kansas, near Manhattan where they resided after marriage.. In September, they sailed to Europe, where Ken was stationed with the 10th Division, 87th Infantry Regiment in Aschaffenburg, Germany. Always very proud of his military service, Ken continued with the US Army Reserve after leaving active duty, retiring as a Lieutenant Colonel in 1984, after 30 years of service.
After returning from Germany in 1957, he began a career in the meatpacking industry with John Morrell & Company in Ottumwa, Iowa. He was transferred to South Dakota in 1969 , then to Memphis, Tennessee in 1976. He became a Corporate VP and General Manager of the Memphis operation.
Ken loved everything about the great outdoors, instilling that love in his sons Ken III, David, and Steven. He enjoyed camping, fishing and hunting, boating, visiting National Parks, gardening, stamp collecting, cowboy shows, and Tennessee Vol sports, especially football. Over the years, he photographed all 50 state capitol buildings. Ken was an excellent furniture maker. He even built two full-size Grandfather clocks. Another of his favorite activities was restoring antique cars. He found an 1950 vintage Army Jeep, just like the one he had driven while serving in Germany and had it restored to drive in parades and family celebrations. He also loved music and played the piano, accordian and harmonica.
Ken is survived by Beverly, who was his loving wife of 68 years, two of his sons John Kenneth "Ken" III (Rhonda), Steven (Carmen), and David's wife (Holly), nine grandchildren, including John Kenneth IV (Amy), Megan Miller Semon (Zach), Matthew (Ashleigh), Ariel Miller Leighty (Andrew), Liam, Henry, Aidan, Oliver and Jessika, and also 7 great-grandchildren: Landon, John Kenneth "Johnny" V , Maxwell, Stevie, Knox, Kennedy, and Cecilia.
Ken was preceeded in death by his middle son, David and also his parents, Willa (Brownlee) and John Kenneth Miller, Sr.
In lieu of flowers, Memorials may be directed to St Jude Children's Research Hospital or to a charity of one's choice.
The family suggests that out of town guests stay at the Hilton Garden Inn Memphis East Germantown location close to their home. Please copy and paste the below link into your browser.
https://www.hilton.com/en/hotels/memeggi-garden-inn-memphis-east-germantown/?SEO_id=GMB-AMER-GI-MEMEGGI&y_source=1_MTc0OTA1NTYtNzE1LWxvY2F0aW9uLndlYnNpdGU%3D
Read More
Upcoming Events
Memorial
Serenity Columbarium Chapel
1626 Sycamore View Road
Memphis, TN 38134
Cemetery Details
Location
West Tennessee State Veterans Cemetery
4000 Forest Hill Irene Road
Memphis, TN 38125