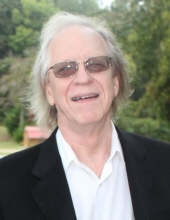 Obituary for James Hunt
James "Jim" Hunt, artist and author, passed away Friday, December 17, 2021. He is survived by his mother, Guyla Jean Hunt; his siblings, Nancy Hunt Reed, Casey Hunt, and John Hunt; and his wife, Gladys Gloria "Gigi" Hunt. He is predeceased by his father, James Kenneth "Ken" Hunt.
Jim was born in Oak Park, Illinois on July 18, 1949, where he cultivated a lifelong fandom for the Chicago Bears, Cubs, and Blackhawks. After graduating from Fenton High School, Jim enrolled at Chicago Circle Campus, but paused his studies to serve in the United States Air Force at the beginning of the Vietnam War. During his service, Jim graduated with honors from the Inter-American University of Puerto Rico with a degree in ancient religion. After 4 years of dedicated service as an Air Force meteorologist, Jim began pursuit of a postgraduate degree at the University of Wisconsin-Madison, but soon discovered a calling outside of academia.
Jim began work as band manager of "Riders On The Storm," a Doors tribute band, but ended his time with the group as its lead singer. A mere half hour before a scheduled performance at Marquette University in 1981, the acting lead singer of Riders On The Storm disappeared from the set, claiming that he would never sing again. The band members were devastated to have to cancel the performance, but even more devastated at the prospect of canceling an even bigger performance scheduled for the next day during Madison, Wisconsin's legendary State Street Halloween party. According to the band, Jim insisted that he would sing lead vocals for the party, despite never having sung in public before. Jim nailed every song and remained the lead singer for the next 19 months.
Jim applied the very same determination and passion he displayed that night to everything he did. He dedicated his life to his art - not just music, but philosophy, writing, and poetry. His published work, "Into This House We're Born," chronicles his steady absorption into the music of The Doors, culminating with his insightful analysis of Jim Morrison's most personal lyrics. Although the following poem was not published, his poetry reveals a captivating intelligence and curiosity. Gigi wanted to share this poem from a journal Jim gifted her:

A life worth living
Even as autumn leaves
Pile up in the yard
Where will we be at the end?
How will we say goodbye?
What pains have yet to be carried?
Can't care about any of that
Only about us
All of us

Jim was a lifelong learner, a big thinker, and a fearless dreamer with a cutting sense of humor and warm spirit. He will be missed dearly. Please join us in celebrating Jim's life at 1:00 PM on December 28, 2021, at West Tennessee State Veterans Cemetery.

Serenity Funeral Home, Tel. (901) 379-0861.
Read More
Previous Events
Graveside
West Tennessee State Veterans Cemetery
4000 Forest Hill Irene Road
Memphis, TN 38125
Cemetery Details
Location
West Tennessee State Veterans Cemetery
4000 Forest Hill Irene Road
Memphis, TN 38125