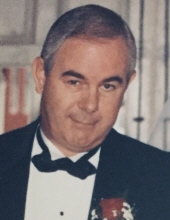 Obituary for James Charles Britt
James Charles Britt
10/22/1941 - 01/04/2021
I never thought I'd write this. I thought you'd live forever.
James Charles Britt passed away on January 4, 2021 after a brief illness.
Charlie was born on October 22, 1941 in Eupora, MS, the son of the late James Lee
Britt and Omie Gilliland Britt. He was married for 34 years to Margaret Elaine Britt
who preceded him in death. He is survived by daughter Libby Gallagher(Monty),
stepson Eric Chamberlain(Susan), stepson Kirk Chamberlain(Lou), stepdaughter
Leah Gardner(Mike) and six step-grandchildren.
Charlie grew up in Memphis, TN and graduated from Central High School. He
spent over thirty years in the grocery business, working his way up from sacker to
becoming general manager of Fred Montesi Supermarket in Whitehaven, TN. He
had a drive and determination not often seen, and the years that followed saw him
owning and operating several Metro Market and Piggly Wiggly grocery stores
throughout the Memphis, TN area. In his later years, Charlie ran a successful
vending route in and around the city of Memphis and was beloved by his
customers.
In his free time, Charlie enjoyed the sport of NHRA drag racing and cheering on
the Memphis Tigers basketball team. Charlie touched many lives and gave
inspiration to many people. He served as a caregiver for his dad and his wife
during their time of need and was always willing to lend a hand or a kind word to
all. He was just a REALLY GOOD GUY and will be missed dearly by his family and
friends.
There is no memorial service planned. In lieu of flowers, please consider a
memorial to the charity of your choice.

Serenity Funeral Home, Tel. (901)379-0861.