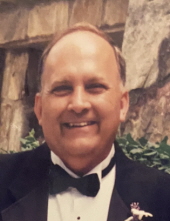 Obituary for Gary Meeks Hinson, Sr.
Gary Meeks Hinson, Sr., 75, died and went to be with the Lord on December 3, 2020. Gary was born June 23, 1945 in Newbern, TN to the late Edward and Louise Hinson. He leaves behind his wife of 53 years, Ann, and three children, daughter Katherine (Dennis) Laney of Knoxville; daughter Kim (Marshall) Brock of Chattanooga; and son Gary (Alison) Hinson of Germantown. Gary was the younger brother of the late Carolyn Pearson of Dyersburg and older brother to Ed (Katherine) Hinson of Huntsville, AL. He was affectionately known as Grampers to his 11 grandchildren whom he adored (Will 14, Liza 13, and Sam 11 Laney; Banner 23, Emerson 22, Myra 20, Bennett 18, Acree 16, and Canon 14 Brock; Elizabeth 10 and Nell 5 Hinson). He took great pleasure in investing his time and love into their lives. Gary also leaves Brother-In-Law John (Sandy) Fumbanks from Atlanta and many nephews,nieces, and beloved friends including the "Ten Old Men".
Gary was a letterman in many sports while attending Dyersburg High School and was privileged to be a member of his beloved Memphis State Tigers football team his freshman year of college. After graduating from Memphis State, Gary cut his teeth in the furniture industry at Memphis Furniture Company and Bradford Furniture Showroom then continued into sales and ultimately ownership roles opening Worthington Furniture in the early 1990s. He made several
lifelong friendships during this time and greatly cherished those. His love for University of Memphis Tigers continued throughout his life from regularly attending football and basketball games with his family when younger to avidly watching on TV every game in both sports in his elder years.
Due to the ongoing COVID-19 pandemic, the family will have a private ceremony at a future date to celebrate and remember his life. The family requests that those who would like to remember or honor Gary do so by making a donation to LeBonheur Children's Hospital or St. Jude Children's Research Hospital in
Memphis in gratitude for the care provided from each organization to his family members.