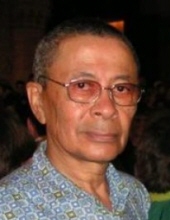 Obituary for Fred Hibbler
Fred Hibbler, age 76, passed away August 15, 2014. This is a special day to remember and celebrate the life of a wonderful man, Fred Hibbler, a dedicated father and husband, a steadfast brother, cousin, son and friend. A man who was educated in Common Sense and graduated with a master's in "The Epitome of the Black Man."
In this age of our men going under appreciated, overlooked and disenfranchised "Uncle Fred," as many affectionately called him, did not allow society's perception to deter him from his duty. A hard working man to his bone who always let you know how much he loved you---whether making sure you had lunch money, the oil in your car was changed so you would not break down on the road or my favorite, when he talked my mom and I throug tornadoes an storms as we drove from Chicago to San Diego.

He was a Man's man. He took his duty as husband, father and friend seriously. It was never about financial richness his WEALTH was in his Love. The way he Loved was physical, spiritual and mental; you felt it in his hug, his kiss, the way he said baby and most importantly, when you stood in his presence or he called you his family--you knew you had nothing to worry about.

Dad gave of himself which is the greatest gift God has given us all. Better than Tiffany diamonds, D&B handbags or the best American made car. There is nothing you could not ask of him, for he would do his best to make it happen for you. He supported you not only through his wise counsel but helped it come to fruition with the sweat from his brow, his strong hands and mechanical mind.

In this day, when our youth and many of us are looking for guidance, we have a role model who's life was an example to us all. We do not have to look any further but in our own memories of how he encouraged and guided each of us to a better place.

I personally thank you for being the father, I needed when mine passed so early. Thank you for stepping in and taking your duties seriously. We thank you for being the husband, who demonstrated that true love, long lasting faithful love is possible. We thank you for living this life and loving each one of us in your special way.

Visitation will be held on Saturday, August 23, 2014 from 1:00 p.m., until service time at 2:00 p.m. at Harold Ford Funeral Chapel, 1638 Sycamore View Rd., Memphis, TN 38134.

Arrangements by Serenity Funeral Home and Cremation Society, 1632 Sycamore View Rd., Memphis, TN 38134, Tel. (901) 377-3543.


Previous Events
Visitation
Serenity Funeral Home
1638 Sycamore View Road
Memphis, TN 38134
Service
Serenity Funeral Home
1638 Sycamore View Road
Memphis, TN 38134