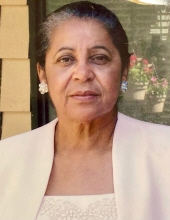 Obituary for Frances R. Moore
Program Link for Ms. Frances Moore: https://forms.gle/3GQsPPNptJ7GzXFu5

Frances Roddie Moore was the daughter of the late Thomas Roddie and Odessa Johnson Roddie. She began her journey in Cordova, TN on March 16, 1944, born 5th of five children.
She was raised by her 1st Cousin, Mrs. Leatha Mae Cross ("Mae Mae") & her husband, Mr. Huley Cross - she started her life w/them @ 2 months old and continued with her twin brother, Frank Roddie, until they graduated from college and her twin went into the military.
Frances, at the age of 15, accepted Christ as her Lord and Savior at Mt. Pisgah Baptist Church in Cordova, TN while visiting her grandmother for the summer; she became a member of Mt. Pisgah and attended until marriage. She later joined Old Salem Baptist Church on Scott St. in Memphis, TN, where she served as Sunday School teacher, Youth Director over all children's programs, Vacation Bible School teacher, and adult supervisor over the Youth Choir. After moving to the Graceland area, they joined Mississippi Boulevard Christian Church (MBCC) with their 2 sons, where Frances would attend weekly "Hour of Power" prayer services until her illness, followed by her death.
Frances was preceded in death by her twin brother, Frank Roddie, and by her older brother (by 2 years), Thomas Henry Roddie.
Frances was united in Holy Matrimony on June 2, 1967, to her "high school sweetheart", Loyal E Moore Jr., after 8 years of courtship. They were married for 52 years. To this union, 2 sons were born; Brian Edward Moore and Lance Edward Moore.
Frances attended Melrose Elementary & High Schools in Memphis, TN for 12 years. She attended Tennessee State University in Nashville, TN and received her Bachelor's Degree in Elementary Education from Memphis State University, followed by her Master's Degree in Administration & Supervision from Travecca Nazarene College in Nashville, TN.
Frances was employed by Memphis City Schools for the entirety of her 32-1/2 year career. She began her teaching career at Lauderdale Elem., and then went on to teach at Georgian Hills Elem. She would go on to teach at Klondike Elem., and she ultimately retired from Peabody Elementary Optional School.
"Granny", as she is affectionately known by her grandchildren, will be fondly remembered.
Her hobbies included working in the yard, creating floral arrangements, and dancing (which she did all of her life). She started to dance as soon as she could walk… She danced in Elementary & Jr. High. She was lead dancer in high school, danced at TSU, joined the Orchesis Dance Company at Memphis State University, and even joined the Praise Dancers team at MBCC.
She joined BSF (Bible Study Fellowship) the year she retired, and she served as Group Leader for 15 years until she lost her voice and had to step down.
Frances was a member of Top Ladies of Distinction for many years, where she was over Community Beautification and decorated for all of their events, including Luncheons.
Frances was called home to be with her Lord and Savior on March 1st, 2021, following a difficult journey with Amyotrophic Lateral Sclerosis (ALS), an incurable progressive neurodegenerative disease.
She was preceded in death by her husband, Loyal E. Moore Jr., from whom she was practically inseparable.
She leaves to cherish her memory two sons, Brian E. Moore (Nikole) of Buford, GA and Lance E. Moore of Seattle, WA; two grandchildren who loved her dearly, Chloe & Mason; two sisters, Nell Avant & Jackie Briggs-Sales; two brothers, Granville Roddie of McDonough, GA and Billy Dickens Jr. (Shirley); three sisters-in-law, Emma M. Primous (Commodore), Judy M. Jackson (Charlie) of Shawnee, KS, and Jeri M. Mays; one brother-in-law, Bennett Moore, and a host of nieces, nephews, cousins & friends.

Serenity Funeral Home, Tel. (901)379-0861.


Previous Events
Visitation
Serenity Funeral Home
1638 Sycamore View Road
Memphis, TN 38134
Graveside
Memorial Park Cemetery
5668 Poplar Ave.
Memphis, TN 38119
Cemetery Details
Location
Memorial Park Cemetery
5668 Poplar Ave.
Memphis, TN 38119