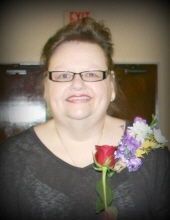 Obituary for Edwina Oliver
Edwina Oliver, age 58, died February 9, 2021.

This story begins as Edwin Childers and Pauline Bartley meet, grow up, and fall in love. Love was wonderful and a blessing for their lives. They married and had another blessing from God, their first child, Edwina. Named after her father Edwin. Edwin was so pleased and proud for her to share part of his name. Edwina was born on November 26th, 1963.

Edwin worked as a barber and had his own shop. Pauline worked at Ratliff Elkhorn Coal. God gave them another blessing, a son, Bryan. He was born April 12th, 1966. Edwin loved Bryan from the beginning and they were so close. Then along came the third and last blessing, another daughter, Sabrina. She was born August 13th 1968. As children Edwina, Bryan, and Sabrina went to the Freda Harris Baptist Center to learn about Jesus and His wonderful ways. Although they all loved each other, they did fight. They would call Pauline at work and tell on each other. Pauline would come home and whip all three of them. Then they would be mad at her instead of each other.

Edwina started lookout grade school in the first grade. She loved school, her friends, and her teachers. Again, The Lord blessed her to do well in school and make good grades and even better friends. Tammy Justice was her best friend through thick and thin. They loved each other as the bible says, "a friend loves at all times". The friends loved each other until Tammy's death. Now they are in Heaven together with Jesus.

In High school Edwina played the trumpet in the band all four years. She was a 4.0 student. The Lord blessed Edwina with intelligence and love. She attended Eastern Kentucky University where she was blessed by The Lord with intelligence and a 4.0 again. She worked for fashion bug while going away to college and opened many stores for them. Edwina was faithful to remember God was reason and the leader to her success in her life.

At college she met Dewayne Oliver. Dewayne was a security guard. They began talking, become friends, fell in love, and got married. Fast romance and love led to good marriage. Dewayne was a wonderful and loving husband. They attended Mount Moriah Baptist. Their pastor is Reverend Melvin Smith.

Dewayne wanted everyone to know what a good army wife Edwina was. Dewayne made the best of his army life and career for himself and Edwina. She was uplifting and encouraging to all of the army wives. She attended many functions for army wives and support groups for them.
Dewayne and Edwina had a wonderful life together, but heartbreak has come.
Edwina was a sister to Bryan and Sabrina. She was an aunt to Eddie Childers, Daniel Childers, Savannah Clevinger, and Connor Clevinger. She loved her dogs, they were her friends, her pets, and even her children.

Then came the time Edwina became sick. Dewayne was a wonderful loving husband, as he always had been, but more. Dewayne was at the hospital as much as possible. He was there to take care of her. He was there when she went home, with love and devotion. Just as he was there for her family until the end. Edwina's sister-in-law Kim also had a great concern for her. Pauline, Bryan, Sabrina, and Dewayne were all at home with Edwina when she passed. They showed her love and devotion until the very end.

Then came the time for her to meet Jesus. She was in pain, but I do believe she also was seeing Heaven and Jesus in the end. As the breath left her body angels came and carried her soul and spirit to The Father for eternal life. Having no more pain, sorrow, or troubles, she now walks on streets of gold with Jesus to the mansion prepared for her.

Serenity Funeral Home, Tel. (901)379-0861.


Previous Events
Visitation
Serenity Funeral Home
1638 Sycamore View Road
Memphis, TN 38134
Service
Serenity Funeral Home
1638 Sycamore View Road
Memphis, TN 38134
Committal Service
West Tennessee State Veterans Cemetery
4000 Forest Hill Irene Road
Memphis, TN 38125
Cemetery Details
Location
West Tennessee State Veterans Cemetery
4000 Forest Hill Irene Road
Memphis, TN 38125