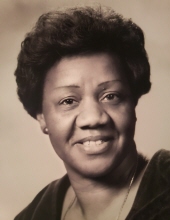 Obituary for Dasie B. Green
Mrs. Dasie B Green, the daughter of Clarence and Rose Anne Hardin was born November 17, 1936 in Senatobia, Mississippi.

She married James Edward Green and moved to Chicago, Illinois and lived there over 20 years.

While residing on the southside of Chicago in Robert Taylor Homes, Dasie became the Coordinator of the 2nd District Beat Representative Program.
She was affiliated with many organizations in the community. Dasie served as the president of Coleman PTA, a volunteer at
St. Elizabeth Catholic School, managed the "Hot Line" program at Robert Taylor Homes, she was a member of the 2nd District Steering
Committee, and helped organize the Taylor Escort Service Program. She was also a faithful member of the First Church of
Deliverance.

After James retired from the Chicago Housing Authority, they moved to Memphis, Tennessee where she continued to be a
devoted wife and mother.

Dasie had a heart for people. Most of her life, she was a community organizer. She was convinced that the lives of people
could be improved through hard work and dedication. Dasie made a positive difference in the lives of others by promoting
the summer lunch and job programs, block parties, family fun day, and a judge mentorship for the youth and adults of
Robert Taylor Homes.

Dasie's interests included, social awareness, civil rights, and watching political segments on CNN and MSNBC. She was an awesome
mother to her children, a loyal friend, and a phenomenal woman.

Her husband, James Edward Green Sr (54 years of marriage), son, Stevie Green, granddaughter, YaShica Green, her brothers; L.C.,
Caleb, Laree, Walter, Clarence, her sisters; Orline, Margaret, and Earnestine, preceeded her in death.

Left to honor her memory,
three sons, Lewis Edward (Tiquita) Green, Crosby, TX, Dan (Cassandra) Green, and James Edward(Terry Anna) Green Jr. both of
Memphis, TN, three daughters, Helen Joyce Green- Banks of Atlanta, GA, Corliss Green, Marla (Jerald) Green-Brown, both of Memphis, TN,
one brother, M.W. (Ida Mae) Hardin of Memphis, TN.
15 grandchildren, 22 great-grandchildren, 1 great- great- grandchild, and a host of relatives and friends.

Serenity Funeral Home, Tel. (901)379-0861.