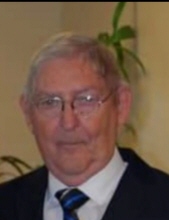 Obituary for Billy Charles Wooten
Billy Wooten, 79, died April 10, 2021.

Billy Charles Wooten left his mark on earth for being a kind, loving, funny, and generous soul. He was born on April 30th, 1941 in Sardis, Mississippi. He enjoyed laughing and making people laugh whether it was by his jokes or by his funny faces. He was called honey by his loving wife; daddy and Papa by both friends and family since he would take in anyone who needed it. He was and always will be the best dad and Papa to all that knew him. Billy was also the love of his wife's life, Mary Wooten. He enjoyed dancing in the kitchen with her. He is remembered by his wife, Mary Wooten; 3 children Donna (Rusty), Wayne (Linda), and Jodie (Joe); 2 sisters Cathy (Mike) and Sherry (Tommy); 15 grandkids, 34 great-grandkids, and 1 great-great grandkid; along with an abundance of family and friends. He also leaves behind his puppy, Romeo, also known as his Little Buddy. He is proceeded in death by his father Hardy Wooten Sr., his mother Verlon Wooten, 2 brothers Glenn (Little Bit) and Hardy Wooten Jr. (Gin), and 1 sister Nellie Jean.

A million times
I've needed you
A million times I've cried,
If love alone
Could have saved you
You never would have died.
In life I loved you dearly,
In depth I love you still.
In my heart you hold a place,
No one else can ever fill.
It broke my heart to lose you,
But you didn't go alone
Part of me went with you,
The day God took you home.

Serenity Funeral Home, Tel. (901)379-0861.


Previous Events
Service
Serenity Funeral Home
1638 Sycamore View Road
Memphis, TN 38134