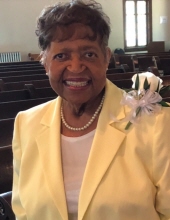 Obituary for Annette H. Stewart
Annette Yvonne Hill Stewart, 82 years of age, passed away on Sunday, November 8, 2020 in her home.

Annette was born January 8, 1938 in Kosciusko, MS to the late Jerry and Martha Magnolia Hill. She was the sixth of eight children, six preceded her in death. Annette was educated at Conway High School in the Leake County School System in Conway, Mississippi. After graduating from Conway High School, Annette attended Mississippi Vocational College (now Mississippi Valley State University) and completed her clinical studies at Humes Hospital in Vicksburg, MS, where she obtained her LPN degree.

Annette married Macon Stewart in 1956, their union brought two daughters into the world, Sylvia and Valda La. Annette professed her life to Christ at an early age while attending Galilee Missionary Baptist Church in Thomastown, MS. Annette and Macon moved to Clarksdale, MS where they joined Haven United Methodist Church. Annette was an avid member of the choir and the United Methodist Women. Her church members soon became her church family and she along with other female members formed The Social Service Club where they would meet once a month at each other's home. In the month of May they would award a club member's graduating son or daughter with a $500 dollar scholarship.
Annette remained an active member until her death.

In 1976, Annette returned to college to pursue her RN degree from Phillips Community College in West Helena, Arkansas. While in school she continued to work at the Northwest Mississippi Regional Medical Center and was named by her superiors as NURSE OF THE YEAR. Her nursing career consisted of 43 years. After graduation Annette and Macon relocated to Memphis, TN in 1993. After settling in they joined Centenary United Methodist Church where Annette sang in the church choir, served as President of the Helen Longstreet Subgroup, served as Coordinator of Health and Welfare/Healthy Challenge Program, provided and folded palms for Palm Sunday Worship and was honored as a Legend in 2012.

Annette loved to cook and bake. Her favorite cakes to bake were the Philadelphia Cream Cheese Pound and Sour Cream. She enjoyed other hobbies such as sewing pillow cases for the Youth Village, knitting, crocheting blankets, piecing quilts and catching a game. Some of her quilts and blankets now hang in LeBonheur Children's Research Hospital, St. Jude Hospital and The Pink Palace in Memphis, TN. She participated yearly in the Shelby County School Agriculture Day.

Annette loved spending time with her family and laughing and talking with her friends. She always wore a smile on her face. She was a loving and caring person, devoted wife, mother and grandmother, always thinking of others first. She leaves to cherish her loving memory her husband of 64 years, Macon Stewart (Memphis, TN) two daughters, Sylvia Halepota (Albany, NY) and Valda La Stewart-Williams (Atlanta, GA); 5 grandchildren, Jamal Y. Halepota (Atlanta, GA), Jawed Y. Halepota (Boston, MA), Zeena A. Halepota (Brooklyn, NY), Hamdiya N. Williams and Halle Yvonne N. Williams (both of Atlanta, GA); one brother Haile S. Hill (Patricia - Kosciusko, MS), a host of nieces, nephews, cousins and dear friends.

"GIVE ME MY FLOWERS WHILE I LIVE"

Serenity Funeral Home, Tel. (901)379-0861.


Cemetery Details
Location
Memorial Park Southwoods
5484 Hacks Cross Road
Memphis, TN 38125